*Links in this article may be affiliate links, from which we may earn commission. See our
Privacy Policy
for full details.
---
Hundreds, if not thousands, of books have been written about relationships and marriage. But not all of them are worth your time. Which ones are? If you're looking to find the best marriage books for couples out there, I've made it easy for you, combining 15 excellent reads into one ultimate list.
What makes a good marriage book? While this is likely subjective, I feel that the best books on marriage offer realistic, practical tips, include encouraging and authentic stories, and focus overall on creating a marriage that thrives. These books also go along well with my 10 rules for a happy marriage.
Looking for some books and resources that will help you create a better marriage or improve your relationship? Kudos to you for seeking out the best relationship advice for couples! That is fantastic and it says a lot about what you're willing to do for this most-important partnership. I'm confident you'll find something beneficial here.
While I haven't read every single book on marriage and relationships on this list, I've read quite a few (and we aim to complete the rest in time). For those I haven't read, we're featuring authors we trust, books that have been recommended by friends and trusted sources, and those that are highly rated time and again.
I've also included a mix of general non-religious marriage books as well as a few Christian marriage books. Even if you don't consider yourself religious, you may want to look at some of the Christian relationship books on the list, as I personally recommend some of these and they offer great advice that could apply to all marriages.
Ready to dive in? Check out these 15 must-read books on marriage and relationships, books that just may help you to be a better husband and a better wife. 
15 Fantastic Marriage Books for Couples
This is one of my all-time favorite marriage books. Nathan and I read this book when we were engaged, and it was very meaningful to both of us as we prepared for our wedding and our marriage.
In the words of one reviewer, this book is "a Bible-based exploration of why God gave us marriage and what it means for everyone- single or married, divorced, separated, widowed, etc." It's not just one of the best Christian relationship books for couples, but it has practical wisdom that can be useful to single people as well.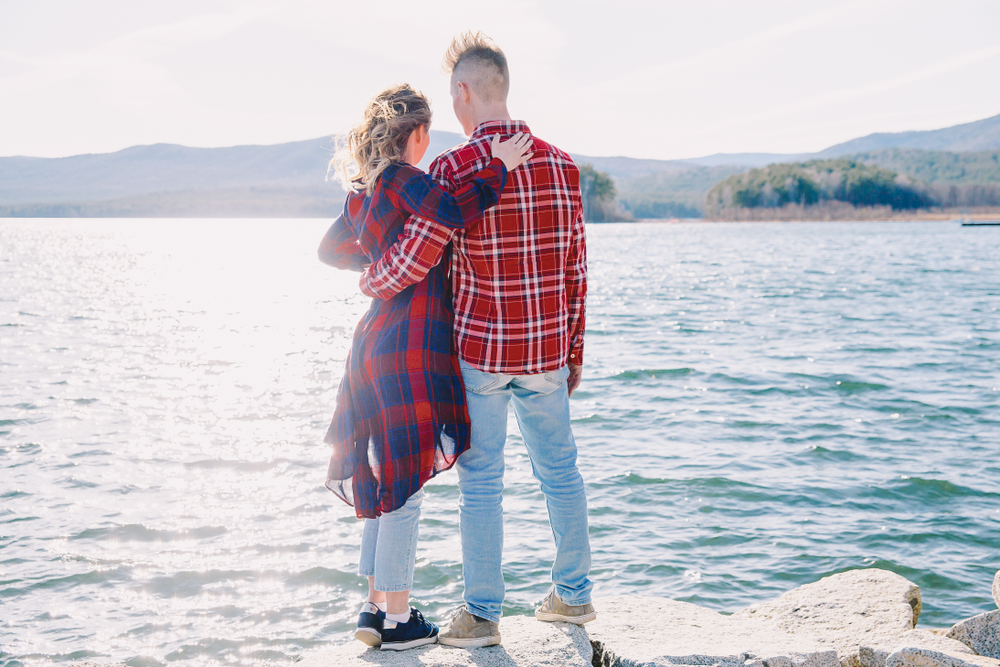 The Meaning of Marriage: Facing the Complexities of Commitment with the Wisdom of God was written by Tim Keller, a well-known pastor, with help from his wife, Kathy. Together, they created a book that explores the meaning and purpose of marriage, with a Christ-centered focus.
We loved this book, and there's a good chance you will, too.
I can't say enough about this terrific book. We read this together when we were having some challenges in our relationship. The book came at a perfect time in our life together. We were not yet engaged, and I think this book really paved the way for us to move towards a healthy marriage.
This book is deep and complex, written in rich and oftentimes beautiful language. It's a book that should be read slowly and meditated upon.
The wisdom in it is brilliant. Grounded in a lot of mindfulness and Buddhist tenets, the book emphasizes how to become a more loving and generous person. Ultimately, Richo shows readers that each of us brings our own problems to our relationships, and opens our eyes to how to mindfully fix them.
This was profoundly helpful for me with regards to my own relationship anxiety and reassurance seeking and I know Nathan got a great deal out of the book as well.
How to Be an Adult in Relationships: The Five Keys to Mindful Loving is a great title for this book, as it teaches us how to take responsibility for our own actions and feelings. With many practical exercises that you can do together or on your own, this is definitely one of the best marriage books for couples we've come across.
Read Next: 7 Things People in Happy Relationships Don't Do
---
---
It's likely you've heard of one of the best relationship books out there. The 5 Love Languages: The Secret to Love that Lasts, was written in the 1990s by Gary Chapman, and still remains one of the best selling marriage books ever written. 
This book first introduced the concept of 5 distinct love languages, 5 specific ways in which people experience love. By taking the quiz and reading through the book, you and your partner will gain an understanding of your own love language as well as your partner's. Combined with practical tips, you'll learn how to better give love and receive it, and to show your partner how you most wish to be loved. You can read our own five love languages summary here.
There's a reason this book was so groundbreaking. Though the concepts are really quite simple, learning to truly grasp them just might prove transformative in your marriage.
Hold Me Tight: Seven Conversations for a Lifetime of Love is written by Dr. Sue Johnson, a clinical psychologist and the creator behind Emotionally Focused Couple Therapy. The book is based on the premise that we all have attachment needs for closeness and safety, and when these are lacking, it can create turmoil in our relationships. Instead of the usual couples therapy tactics, Hold Me Tight approaches things from a different perspective.
The first review on Amazon is entitled "Reading this book literally saved our 26-year marriage" which says a lot about the efficacy of this book.
It seems that this book may best be read in conjunction with working with a therapist to help you apply the principles to your marriage.
---
---
John Gottman is a household name in the world of romantic relationships. The psychologist and founder of the Gottman Institute has been studying relationships for decades, and has shared his wisdom and findings in more than a dozen books.
This particular book, Why Marriages Succeed or Fail: And How You Can Make Yours Last, is a foundational read that will help you learn how to steer your marriage away from divorce. A classic among marriage self-help books, this 1995 book lays out the relational patterns that have been shown to lead to the dissolution of marriages. Not only will Gottman help you to recognize the patterns, he'll show you practical tips for addressing them in a healthy manner. 
Many reviewers on Amazon claim that this book helped save their marriage. It seems that this 24-year-old book still holds an abundance of relevance for couples today.
---
---
We by Robert Johnson
We: Understanding the Psychology of Romantic Love, is a bit different from the other books on this list. Retelling the story of Tristan and Iseult, Johnson uses myth as a backdrop to explain the concepts of romantic and divine love—and perhaps shows us how we've gotten it wrong.
The book is somewhat academic in nature, with poetic aspects and Jungian psychological elements. As one reviewer succinctly puts it, this book "is really a commentary on the struggle we all face as humans, having inside ourselves a world of ideals, images, fantasies, love, appreciation, and yet living in a world in which is full of difficulty and imperfection."
Here's another read that takes marriage help books and turns them on their head. While many relationship resources out there emphasize the importance of passion, excitement, and the search for "the one," in this book we see what a marriage might be like if it had a different sort of beginning: an arranged one.
First Comes Marriage: Modern Relationship Advice from the Wisdom of Arranged Marriages offers some uncommon, yet common-sense advice about finding a mate and building a successful life together. Drawing on the outcomes of arranged marriages, Seth shows readers how the keys to a fulfilling relationship are not often what we expect them to be.
This fascinating book is a great read not just for married couples but for singles, too.
---
---
Here's another volume to add to the collection of best Christian marriage books. The full title shows us that this book is all about prioritizing God within your marriage, and hints at the true purpose of our marriages: Sacred Marriage: What If God Designed Marriage to Make Us Holy More Than to Make Us Happy? I adored this book!
Whether you read this with your spouse or on your own, you'll see that Sacred Marriage focuses less on changing your behaviors and more on changing your heart. This book will provide encouragement and guidance for the tough times in your marriage, pointing you towards the ultimate goal of your covenant.
Do you think that marriage is created to make us happy? While that is part of it, it seems there is so much more. Grab a copy of this possibly life-changing book and find out!

Here's another excellent addition to our list of best marriage books. Again, this is by relationship expert John Gottman. According to my research, many readers claim that this is a great book to read right after reading Why Marriages Succeed or Fail, which we highlighted above. This Gottman marriage book is the natural (perhaps more practical) follow-up to that explanatory read.
This is a great choice of books for couples to read together, as it focuses on seven unique marriage principles and exercises to help build upon them. Based on scientific research, the strategies and principles laid out in this book "teach partners new approaches for resolving conflicts, creating new common ground, and achieving greater levels of intimacy."
The Seven Principles for Making Marriage Work: A Practical Guide from the Country's Foremost Relationship Expert has sold more than a million copies worldwide, which is a testament to its strength. With a straightforward, down-to-earth approach, this is a work to add to your shelves.
---
---
Written by husband and wife Dave and Ashley Willis, this book tackles sex, intimacy, and love, in the way that God created them to be in marriages.
You can have a thriving marriage with lots of love and laughter, say the authors, but it demands not just physical nakedness but "emotional nakedness" as well. It is through this that couples can improve their marriage and discover what it was truly meant to be.
The Naked Marriage: Undressing the truth about sex, intimacy and lifelong love draws upon the authors own stories, which they are not shy about sharing, as well as the topics they discuss on their well-known relationship podcast.
Read Next: 10 Relationship Rituals for a Stronger Love and Better Partnership
Is conflict a problem in your marriage? Conflict affects all couples at some point in their relationship, but occasionally, a couple might find that they are highly reactive. This book is for them.
Differing from the usual couples communication books, The High-Conflict Couple: A Dialectical Behavior Therapy Guide to Finding Peace, Intimacy, and Validation assists couples to gain mastery of intense, uncontrolled emotions, and learn how to use these skills to avoid potentially destructive conflicts. The book is based on DBT, Dialectical Behavior Therapy, a treatment modality that focuses on identifying and changing negative thinking patterns and moving towards positive behavioral shifts.
Even couples who are not "high-conflict" are likely to benefit from this book, according to the many positive reviews on Amazon—many from clinicians and therapists themselves.
---
---
Let's talk about broken trust. Certainly one of the most difficult things a married couple can be faced with. But most relationship books for couples don't focus on these issues in an in-depth way. This book does.
Healing Your Marriage When Trust Is Broken: Finding Forgiveness and Restoration was authored by Cindy Beall, a woman who is no stranger to the topics she writes about. One day years ago, Beall's husband revealed to her that he had pursued affairs with multiple women, was suffering from pornography addiction, and had fathered a child with one of his mistresses. Not only that, but Beall's husband was the pastor of a church. 
Beall experienced a massive betrayal, but her book is not about that. Instead, it's about the redemption and restoration of her marriage, through faith, humility, and ongoing effort.
While this unbelievable story has a Christian-focused message, ultimately, Beall relates that their healing required enormous effort from both of them. This is not just a book about forgiveness and prayer, but about doing the work side by side to bring your marriage back from the brink.
Do you have a fear of abandonment? I do, and this book was life-changing for me! I've talked before on this site about my abandonment fears and my need for constant reassurance. Fortunately, I've been able to work through that and this book was a big help in my healing.
Insecure in Love: How Anxious Attachment Can Make You Feel Jealous, Needy, and Worried and What You Can Do About It is an excellent read whether you are the one experiencing the insecurity and anxiety, or if it's your partner (or possibly both). Attachment styles have a lot to do with how we relate to romantic partners.
With this book, you'll discover how to manage your own attachment style, and to get control of your anxious reactions. This book can help you improve your independence, relationship security, and your overall health happiness in your marriage or long-term relationship.
I definitely recommend this book be added to your list of best marriage self-help books.
---
---
Why Talking Is Not Enough: Eight Loving Actions That Will Transform Your Marriage is one of the top marriage books out there! This is not a Christian couples book, but it does emphasize a spiritual connection. Page believes that "subtle, powerful changes in your own actions" can help to achieve this.
While there are plenty of great marriage communication books that couples can read together, this is one that can be read on your own—and still prove effective. Page offers an eight-step process to behaving more lovingly. These are called the Eight Loving Actions, and they show that, truly, talking is not enough for a successful marriage.
I've had a lot of friends recommend this book to me, so it's certainly on my list!

The last addition to my list of the best books on marriage and relationships is authored by two leading voices in the field: Harville Hendrix and his wife Helen LaKelly Hunt. This pair of Ph.D.'s has written more than 10 books together as well as developed Imago Relationship Therapy in the 1980's. And though they are experts, they experienced their own major marriage struggles.
With lots of credibility under their belts, these are authors you can trust.
Making Marriage Simple: Ten Relationship-Saving Truths has been called "the go-to guide for building a strong marriage in a modern world." Building on their decades of experience, the authors distill the vital principles into 10 truths, with the goal of keeping marriage "simple." What results is an excellent read that has helped numerous couples on their marriage journey.
And if you're looking for the best books for newlyweds, this could be a lovely wedding gift.
Sharing one last bonus addition to this list of best marriage books with you: my own book! While this book isn't 100% focused on marriage, it's a great read if you're experiencing any kind of relationship insecurity, particularly in the form of reassurance-seeking from your spouse or partner.
In this short ebook I share my personal story of anxiety and the best techniques and resources I used to get through it.
---
Looking for more relationship & marriage resources? Check out these helpful articles on our site:
---