*Links in this article may be affiliate links, from which we may earn commission. See our
Privacy Policy
for full details.
---
Have you heard of open when letters? These are a super romantic way to let a partner know you're thinking of them, especially when you're far away. We've compiled the perfect list of open when letter ideas just for you!
There's nothing as sweet as a handwritten letter. When you're far apart from someone, those letters become even sweeter and more meaningful. What if you had a whole bunch of letters you could open, for the exact circumstance in which you needed them? This is the idea behind open when letters.
What are Open When Letters?
Open when letters or open when cards are notes or packages you prepare ahead of time, sealed up with a label on the outside that your loved one knows exactly when they should open them. You present these parcels to your partner all at once, so they have them when they need them. A list of rules for the letters is also important (more on that later!)
Open when letters are great to send to a family member or best friend, but they are absolutely wonderful for romantic partners, too! Those in long-distance relationships will find that open when letters are a great way to make the distance seem more manageable. Long distance can be a frustrating and sometimes sad experience. Separation is downright difficult. Being connected by the power of the written word is awesome, and with open when letters, you can look forward to experiencing the joy as your partner opens up each letter.
Open when letters are ideal to send to spouses in deployment or to a boyfriend or girlfriend who is away at school. They make the future—when you won't be apart–seem much closer.
Wondering what to put inside open when letters? The sky is the limit! There are so many open when letter ideas you could think of, and your partner will be thrilled to open them and treasure them forever.
Writing letters and sending cards/gifts is great when you miss your partner (or anyone that you care about), but sometimes, you wish you could give them what they need.
When your partner has a bad day, you want to comfort them. When they're excited about something, you want to celebrate together. But distance or separation might make this impossible to do in person. That's exactly where open when letters come in.
My husband Nathan & I think this idea is incredibly romantic, and if we were still in a long-distance relationship, we'd definitely do something like this for one another. We've put together a list of ideas for you; ideas that are sweet, romantic, and perfect for couples. Hashtag relationship goals, y'all.
While these open when letter topics are geared towards those in a relationship, they can certainly be adapted to suit any loved one that you miss.
PS: Looking for a quick word of love that you can send your partner right away? Check out this list of fun and flirty texts we've compiled.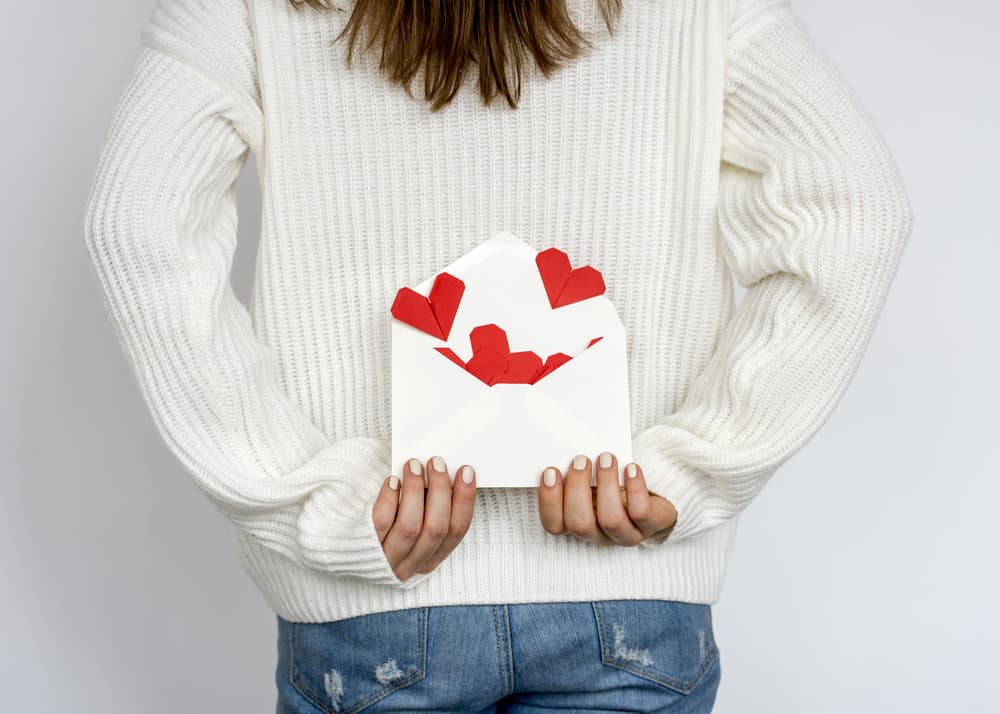 How to Write Open When Letters
You'll need to set aside some time. Writing open when letters will take you a while, especially if you're handwriting the notes. There's no limit to how many open when letters you should create, but 20 or so is enough to make the gift feel really fun and special without becoming overwhelming for you, the creator.
Here's how to write your open when letters:
Decide on a format
Will you create a series of notes on their own? Small packages or envelopes that contain little gifts and items? Or a mixture of both? It can be fun to get creative with your open me when letters but having a template or system can make the process faster and smoother.
We recommend doing a mixture of things, but keeping your open when gifts fairly small. Ideally, the items you give should fit in an envelope or small package. That makes the letters easier for your partner to have with them, without encumbering them with a collection of large parcels.
Create the rules
Make sure to give your partner a list of strict Open When Letters Rules for them to follow. This is a piece of paper or note that should be given at the top of the pile, or given the first time you present them with a letter. On it, you'll lay out the rules that need to be adhered to.
Make the rules fun and light (this is a gift after all) but be specific. These open when letter rules might look something like this:
Only open 1 or 2 letters per week
No peeking at the contents of the letters!
Let me know when you've opened a letter.
Save every one of the letters forever.
Think of me!
Write the letters
Now it's time to write the letters and come up with some open when letter ideas and open when gift ideas. This is the fun part, and we'll help you out with a list of ideas below. You might be wondering what to write inside open when cards. Let all of our ideas below inspire you!
Give them to your loved one
After you've written the notes and compiled whatever gifts you want to give, put the open when letters inside the envelopes, seal them up, and be sure to write the circumstance they are for on the outside! Make each one easy to find when it's ready to be opened.
Then, put them all inside a bigger box or a gift bag, and get ready to surprise your sweetheart with them!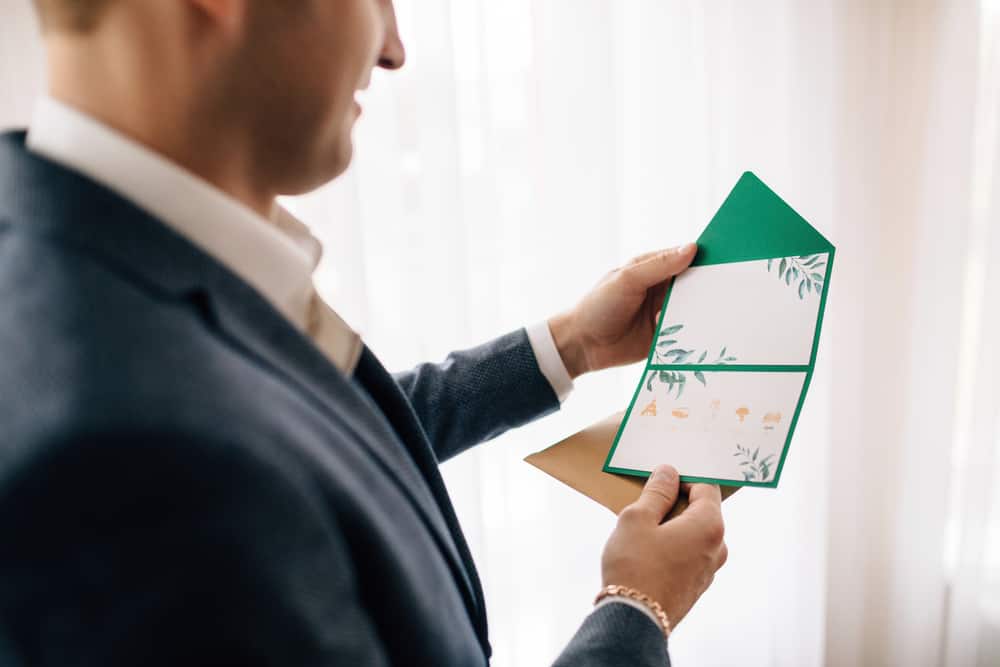 25+ Open When Letter Ideas Perfect for Couples
Here are 25 open when letter ideas, plus some suggestions on just what things to write in open when letters.
These are just a few open when letter examples that we think are perfect for couples. There are definitely hundreds more open when letter ideas you could come up with, so get creative!
Open when you're feeling blue.
When the person you love is feeling down, there's nothing like a little pick me up in the form of a letter or gift. This parcel could include a sweet note designed to encourage them and/or make them laugh. You might include something colorful and "sunshiney" to brighten up their day.
Open when you miss me.
Whether you're in a long distance relationship or are just apart from your partner temporarily, separation is tough. Missing each other is inevitable. This open when letter idea is designed for those moments in life when you miss each other the most.
In your letter, you could include memories of some of your favorite times together, as well as encouragement about how much you love your partner, and maybe the romantic things you'll do together when you meet up next! A printed photo of the two of you is always a nice touch too, as it is something they can keep.
Open when you're feeling romantic.
This is the perfect opportunity to write a love letter. Don't be afraid to get sentimental and a little bit cheesy. Let them know how much you love them. This could be a great idea for a Valentine's Day open when letter.
Open when you need a hug.
When your loved one needs a hug, and you can't give it to them in person, send them one in the mail.
There are lots of creative ideas for this package/letter, including sending a life-size paper version of yourself in the envelope! Or, for an easier version, send a cute stuffed animal that he or she can snuggle.
Open when you've had a stressful day.
We all have days from hell. Make the rough times just a little bit better for your darling with a stress-reducing note or gift. Inside the package, we recommend including some bath salts, a soothing face mask, and lotion—all the things needed for an at-home spa day.
If you really want to splurge on your lover, include a massage certificate in the envelope!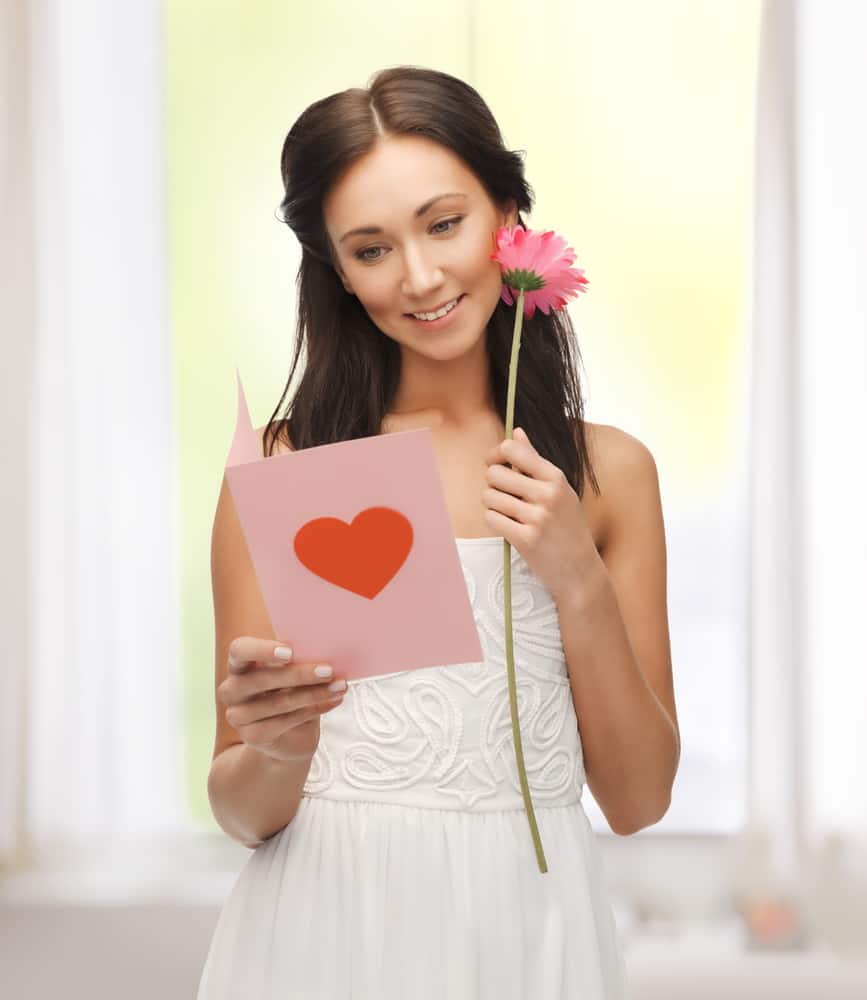 Open when you need a confidence boost.
This is the moment when your partner needs you to be their cheerleader. This letter should include words of inspiration, encouragement, and lots of celebration. Remind your significant other that you believe in them and support them no matter what. You want to make them feel awesome.
Open when you're bored.
This is when you can get creative, sending your partner little fun games and ideas or simply an entertaining note. A gift card for something like a movie is also a wonderful surprise.
Open when we've had a fight.
Some open when letters are great for when you need to make it better, but you're far apart, such as in long distance relationships.
Arguments are inevitable in any relationship. But making up can be more challenging when you're far apart. For an extra dose of love and connection, write your partner a letter that reminds them just how much you adore them. The letter can also remind them that you are on the same team.
This open when letter is a good opportunity to include a sweet little trinket, too.
Open when you're feeling sexy.
One of the difficulties of being apart is the lack of intimacy. Well, you can change that with this letter!
Leave your partner a sexy note. You can keep it more PG if you'd like, or go wild, writing a fantasy story or simply telling your partner what you'd like to do to them the next time you're together.
Open when you need a reminder of how much I love you.
Occasionally, your sweetheart may just need some reassurance of your love. (This was important for us when we were in a long-distance relationship). Sometimes it's just nice to read a note full of adoring words. (Check out these reasons why I love you for inspiration!)
Open when you feel like you're losing confidence.
When your partner feels discouraged, they can choose this open when letter, one that's full of loving support and words that say "you got this."
Open when you feel sentimental.
Feeling sentimental? This is when the open me when letter should be sweet and wistful—vintage touches are perfect. Be sure this letter is handwritten, and add in some pressed flowers and other special things. This is one of my favorite open when letter ideas for a boyfriend or girlfriend.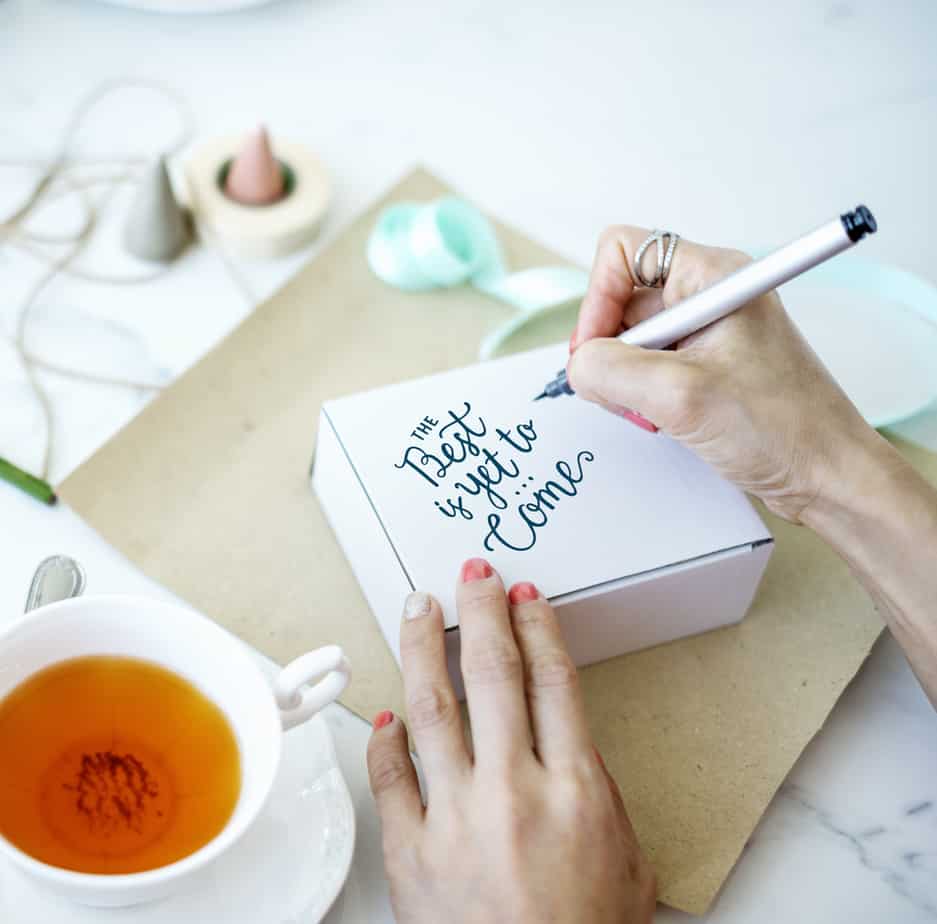 Open when you can't sleep.
This letter or package is made for when your partner keeps tossing and turning. Why not include some items to help them calm down and get ready for dreamland? A packet of sleepy time tea plus some lavender essential oil would be perfect.
Open when you're sick in bed.
It's a horrible feeling when your SO gets sick and you can't be there to take care of them. With a virtual care package, you can do the next best thing.
The "feel better" open when package should have a "get well soon" card, some soup, tea, and anything else that makes them feel better when they're feeling bad.
Open when it's a special occasion.
Celebrate together even from afar. You can include a gift in this letter, or even a restaurant or shopping gift card so your partner can treat themselves.
Open when you feel afraid.
Nothing combats fear like humor. This is a great chance to send an adorable hand-drawn comic. Portray your partner as a superhero battling against obstacles/bad guys/monsters, and winning. Even if you are a terrible artist, the intention behind this creation will be so appreciated.
Open when you need a little encouragement.
This is similar to some of the other notes, but hey, we all need as much encouragement as we can get. Let them know you've got their back.
Open when you need a night out.
This package could be a blast. If you're sending a big one, include some great drink ingredients, some glitter, and maybe even a new outfit? Keep it more manageable with gift cards to local restaurants, clubs, and other hotspots.
Open when you're hungover.
After that night out, your SO will need some care. This letter should contain some headache medicine, rehydration powder, and your recommendations for the best hangover Netflix shows. A pre-paid pizza delivery would also go over well!
Open when you're itchin' to travel.
This open when letter topic has many possibilities. You can send your loved one on a virtual trip with a bunch of fun postcards from around the world, or you can produce a long letter planning out the adventures the two of you will take in the future when you see them again (or they are back home again, if they are away).
If money is no object, include a plane ticket to your destination. That would truly be the ultimate surprise.
Open when you need a laugh.
A book of jokes, a book of Mad Libs they can fill in themselves, or a DVD of your favorite hilarious movie. Whatever you do, give your partner a good hearty guffaw. Here are some cute funny gift ideas.
Open when you feel like crying.
The essentials should be here for difficult times: tissues, chocolate, kind words, and lots of love. And let them know that when they are feeling sad or upset they can always call you—no matter what time it is.
Open when you need some extra money $$$.
This one might be more suitable for open when letters for a friend or for a college student, but who doesn't love receiving a gift of cash?
Open when it's raining.
Get romantic about the rain and write the perfect rainy day letter. Bonus points for including a cute poncho.
Open when you've accomplished something exciting.
Find something that screams "you did it!" When your partner is super proud of themselves, this item will put them on top of the world.
Open when you're really tired.
This could go one of two ways. You could send some items designed to wake them up and pump them up, or they can embrace the sleep with a cozy new blanket you've sent them and sleepy-time tea.
Open when you're worried about our future.
This letter should be serious. For those in a long-term committed relationship, this letter should discuss your shared dreams and goals. You can share all the things you want to do together.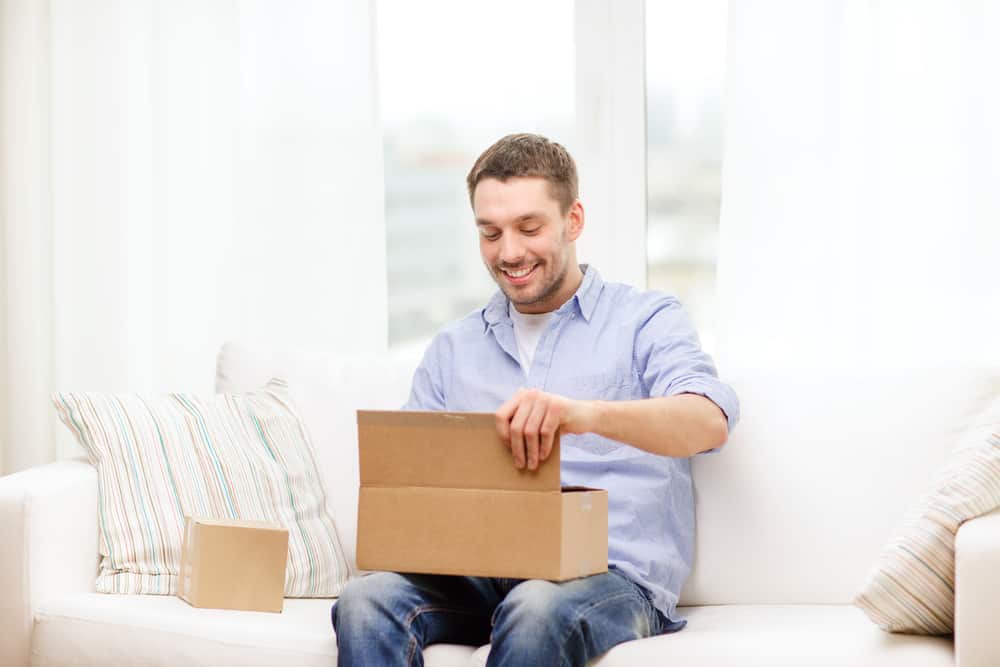 Open when you need to know I'm thinking about you.
Here's another opportunity to pen something romantic and sweet.
Open when you want to see my face.
This envelope should be packed full with photos of you, some funny, some sweet. Your partner will absolutely love it.
Open when it's your birthday.
A great idea for this package is to include a birthday-in-a-box. Confetti, balloons, cake mix, and a party hat, plus some money so they can treat themselves to something awesome.
Open when it's our anniversary.
For this one, you'll want a super-romantic card, plus a special gift. Jewelry?
Open when there are no more letters to open.
This is the final letter. Sign off with love and excitement about seeing your darling again.
---

Maybe you're not confident in your writing. That's ok! All you have to do is write from the heart, keep it simple and short, and write what you want your partner to hear from you.
We hope you've gotten lots of romantic inspiration from these open when letter ideas. Any great ideas to add to the collection? Let us know in the comments! XO
Check out these other posts you might like:
---